This is how I feel-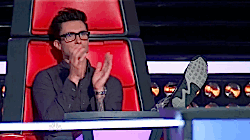 Yes! I have found it! I have found the series that is full of romance, adventure, irony robots things, and fairies. Okay so you might hear the word fairy and think of this...
Am I right?! Well the series I'm talking about today is about hardcore fairies! Like the kick butt killer fairies that have not one ounce of pixie dust! It is a series that is good from start to finish! Sometime I find in a series that sometimes in the middle the story lags a bit but not this series folks! You ready for this!? Okay the series that you need to read is The Iron Fey series by Julie Kagawa! Here's the basic story line!

The Faery realms have always weathered the clash of Summer and Winter fey, the Seelie and Unseelie Courts. Now a new breed of faery has emerged to challenge both... to their peril. Forged by Man's insatiable pursuit of technological superiority, the terrifying Iron fey are massing...and the fate of all faeries hangs in the balance. The greatest weapon in this epic magical war? A half-human teenage girl. Here name is Meghan Chase and every side wants to use her for their own purposes. The main person who you will like in the fairy chess game is the villain/hero Ash.
Let's list the books!
#1 The Iron King
#2 The Iron Daughter
#3 The Iron Queen
#4 The Iron Knight
At first when i started this series I thought it was a little crazy because it has a strong fantasy theme! But the futher I got into it I loved how crazy and imaginative it is! Usually I wouldn't read a book about faery people but I actually really liked this and how it incorporated a Midnight Summer's Dream into it! I also really liked how the author portrayed Ash and Meghan's relationship. He is bound to kill her as a duty to his people yet he finds himself loving her. It is kind of the ultimate doomed relationship. It's really intense!
SO MANY EMOTIONS!!! I felt heartbroken-literally heartbroken...at one point of the series but I kept on going! I totally cried! Read it you won't be disappointed!! I will say this though-reading Julie Kagawa is a genius because her books are very fun because if you have an over active imagination like mine you picture the story in your mind like a movie and she writes them with such description it's super engrossing! :) Go and get them!